Uzbekistan remains one of the key countries in Central Asia. Since the implementation of the new economic policy, the country's economic cooperation with external powers, including Russia, China, and the countries of the European Union has deepened considerably. In this sense, China's presence in Uzbekistan increased significantly. Therefore, this commentary aims to analyze economic cooperation between Uzbekistan and China in terms of trade, investments, and infrastructural projects.
China considers Uzbekistan as a country with a huge consumer market, cheap labor force, stable political situation, and strong state power. Moreover, it is interested in Uzbekistan's favorable business environment, and great potential for infrastructural development projects. In 2021, China's share in Uzbekistan's foreign trade turnover amounted to 17.7%. This is slightly more than the share of Russia. By 2020, Uzbekistan's debt to China has reached $3 billion, or 20% of the country's total foreign debt. Chinese investment in the economy of Uzbekistan reached $9 billion by the end of 2021. However, according to Chinese sources at the end of 2019, China's accumulated direct investment in Uzbekistan amounted to $3.2 billion. Chinese investments in Uzbekistan are diversified and vary from oil and gas to agriculture and logistics [Umarova, 2022]. For instance, a Chinese conglomerate Jinsheng Group invested in a textile factory in Uzbekistan that became operational in 2017. With an annual output of 22.000 metric tons of cotton yarn, 95% of this factory's products are exported, and half of them are sold to China. Foshan-based Xin Zhong Yuan Ceramics began a $150 million ceramics production line in Uzbekistan in 2017 due to cheap raw ceramic materials, low energy costs, and a large local consumer market. In March 2021, during a virtual meeting, the governments of Uzbekistan and China struck an agreement to draw major Chinese companies to Uzbekistan, and the government of Uzbekistan put together forty project ideas for prospective Chinese investors to consider. China's largest loan to Uzbekistan – valued at $1.2 billion and signed in 2017 – from the China Development Bank to Uzbekneftegaz for the Oltin Yo'l gas-to-liquid processing plant [Van Der Kley and Yau, 2021].
According to data from the International Trade Center (ITC, 2022), exports from China to Uzbekistan surged from $104 million in 2002 to $5.2 billion in 2021. For the same period, the country's imports from Uzbekistan increased from $27 million to almost $2 billion (Figure 1). While China's exports to Uzbekistan remain diversified and consist of various industrial products, Uzbekistan mainly supplies mineral fuels, in particular natural gas, and cotton. In 2021, a share of mineral fuels in Uzbekistan's total exports amounted to 38%, while the indicator for cotton equaled 33%. Low diversification of exports puts Uzbekistan at risk, mainly due to possible price changes for exported products. It is important to note that China's supplies to Uzbekistan have grown considerably since 2016 with the new President Shavkat Mirziyoyev and the implementation of the new economic policy.
Figure 1. China's trade with Uzbekistan, million $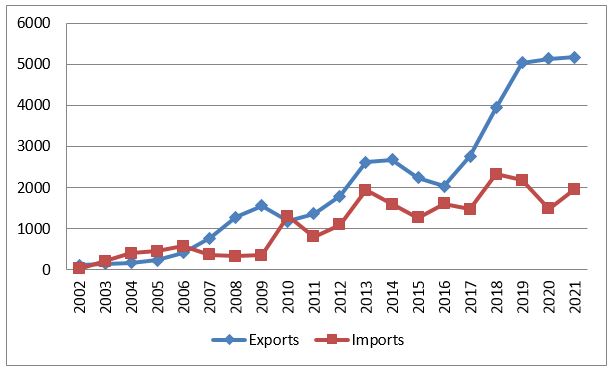 Source: The Author's compilation based on the ITC (2022) data.
Using cooperation with China, Uzbekistan tries to diversify its infrastructural network and penetrate new export markets. In a recent meeting at the Shanghai Cooperation Organization in Beijing, Uzbekistan presented its "Development Strategy of New Uzbekistan for 2022-2026" in the Chinese language, which demonstrated that the country's economic cooperation with China was deepening. One of the most important projects for Uzbekistan is the China-Kyrgyzstan-Uzbekistan railway, which opens the South Asian markets for Uzbekistan. It is worth noting that in early February Uzbekistan signed a five-year program on trade and investment cooperation with China [Burna-Asefi, 2022].
The financing and support for building a common cross-border transport network provided by the Belt and Road Initiative (BRI) remain beneficial for Uzbekistan's transport connectivity. Through participation in the initiative, Uzbekistan's producers can connect to China, Iran, West Asia and India, Europe, and Turkey. According to estimates, the BRI improvements in transport infrastructure are estimated to reduce Uzbek shipment time by almost 15%, the largest reduction among BRI countries. Falling shipment time will in turn raise Uzbekistan's exports by between 13% and 23%. The higher estimated increase is the combined effect of completed BRI transport projects and reforms that halve border-crossing-delays [World Bank, 2020].
However, China's progress in economic integration with the Central Asian region doesn't create a favorable image and Central Asians remain suspicious of China. According to the Central Asia Barometer Survey, a biannual large-scale research project that measures social, economic, and political atmospheres in the region, public sentiment toward China from respondents surveyed in Kazakhstan, Kyrgyzstan, and Uzbekistan demonstrated a steady decline. Within Kazakhstan and Uzbekistan, respondents have shown an increasingly negative view of China from 2017 to 2021. The reasons for this attitude include violations of the human rights in Xinjiang, Chinese workers, and technology, which come with Chinese investments, and concerns of a debt trap. Therefore, economic dependence on China firmly goes against Uzbekistan's historical policy of international neutrality and suspicions of any additional regional players [Woods and Baker, 2022]. Uzbekistan should consider all possible risks connected with the overreliance on investments from China. These risks include concessional loans for infrastructure and technical assistance projects, according to which no less than half of the materials, equipment, technology, and services procured under the contract, should come from China [Burna-Asefi, 2022].
Uzbekistan has achieved significant economic progress since the presidency of Shavkat Mirziyoyev. In particular, foreign direct investments reached $25 billion last year, with about 59 thousand investment projects implemented over the last six years and more than 2.5 million new jobs created. The country set ambitious goals for economic transformation. Uzbekistan's government aims to reach a $100 billion GDP, double exports to exceed $30 billion, and have 80% of GDP produced by the private sector. By 2030 or earlier, Uzbekistan wants to join the World Trade Organization, and become a country with a GDP per capita in the upper middle-income level [Rapoza, 2022]. To achieve these goals, Uzbekistan needs foreign direct investments into key industrial sectors and infrastructure. In this sense, cooperation with China may play an important role in the diversification of Uzbekistan's economy. Although current bilateral relations between Uzbekistan and China remain promising, risks should be taken into consideration. Given the structure of bilateral trade, overreliance on China's investments, loans and aid can cause biased decisions. The government of Uzbekistan needs to increase competition among external powers in terms of investments and implementation of joint projects, which will significantly reduce risks and lead to a higher level of economic opportunities.
 References
 Burna-Asefi, Sophia Nina (2022). China and Uzbekistan: An Emerging Development Partnership? Retrieved from https://thediplomat.com/2022/05/china-and-uzbekistan-an-emerging-development-partnership/. Accessed on 13.05.2022.
International Trade Centre (2022). Bilateral trade between China and Uzbekistan. Retrieved from https://www.trademap.org/Bilateral_TS.aspx?nvpm=1%7c156%7c%7c860%7c%7cTOTAL%7c%7c%7c2%7c1%7c1%7c2%7c2%7c1%7c1%7c1%7c1%7c1. Accessed on 08.05.2022.
Rapoza, Kenneth (2022). Neighbors in Crisis, Uzbekistan Shifts Focus to Investment. Retrieved from https://www.forbes.com/sites/kenrapoza/2022/05/01/neighbors-in-crisis-uzbekistan-shifts-focus-to-investment/?sh=1e61e5f228b9. Accessed on 08.05.2022.
Umarova, Nargiza (2022). China and Uzbekistan: Investments, Projects, and Areas of Cooperation. Retrieved from https://cabar.asia/en/china-and-uzbekistan-investments-projects-and-areas-of-cooperation#:~:text=Uzbekistan%20is%20also%20actively%20using,trade%20turnover%20amounted%20to%2017.7%25. Accessed on 10.05.2022.
Van Der Kley, Dirk, and  Niva Yau (2021). How Central Asians Pushed Chinese Firms to Localize. Retrieved from https://carnegieendowment.org/2021/10/15/how-central-asians-pushed-chinese-firms-to-localize-pub-85561. Accessed on 08.05.2022.
Woods, Elizabeth and Thomas Baker (2022). Public Opinion on China Waning in Central Asia. Retrieved from https://thediplomat.com/2022/05/public-opinion-on-china-waning-in-central-asia/. Accessed on 08.05.2022.
World Bank (2020). South Caucasus and Central Asia: The Belt and Road Initiative Uzbekistan Country Case Study. Retrieved from https://openknowledge.worldbank.org/bitstream/handle/10986/34121/South-Caucasus-and-Central-Asia-The-Belt-and-Road-Initiative-Uzbekistan-Country-Case-Study.pdf?sequence=4. Accessed on 08.05.2022.
Note: The views expressed in this blog are the author's own and do not necessarily reflect the Institute's editorial policy.
1,016